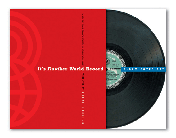 'Its Another World Record — Album Cover Art.
From the studio of The World Record Club, 1958–1976' is
a new book from Geoff Hocking.

This book is a must for lovers
of classical music, good graphic design, collectors and ephemerists alike.
Published by New Chum Press, this 320 page book, released in March 2009, celebrates the excellence in the design of album covers that came from the Melbourne-based studio in the late fifties and the sixties.

Available from the author/publisher at <casbooks@bigpond.com>
RRP $79.95 plus $10 postage to anywhere in Australia
At 320 pages, full-colour throughout, hardback, this is a big book – featuring fabulous reproductions of more than 500 album covers, a short company history and biographies of several of the artists.

You can contact the publisher/author Geoff Hocking at New Chum Press,
PO BOX 603 Castlemaine 3450,
tel: 03 5472 3906, mobile: 0402 098 297, casbooks@bigpond.com or at g.hocking@latrobe.edu.au

"[This book is] a wonderful achievement –
and an heirloom… for everyone who contributed."
– John Pinkney

The writers:

World Record employed a number of staff writers whose task was to compose liner notes for record sleeves and promotional articles for the monthly magazines. Some were newspaper journalists, others had worked with managers Terence Cresswell-George or John Day in publishing or advertising.

Harvey Blanks, Alex Berry and James Murdoch were already well-credentialed in the world of music before they came to World Record but John Pinkney had no idea at all. All became published authors in their own right, both while at World Record and in later years.

Although employed to write, to promote and to sell records, their challenge was to do it such a way that excited, engaged and educated – sales did follow.

Author John Pinkney recalls the working environment at World Record when he joined in 1961:
'I was a newspaper sub and bored out of my head when, in 1961,World Record Club managing director Terence Cresswell-George, offered me the job of editing and writing its magazines. I protested that I knew bugger all about music but that didn't seem to worry him: "Simply regard it as a journalistic challenge," he said. As World Record was offering roughly double what I was getting on the paper at the time – and I had two kids, and a brewery, to support – I accepted.

From the start I absolutely adored World Record Club. I could scarcely believe that a hard-nosed mail-order company could be so–so idealistic. The artists and designers (all chosen with exquisite care) were given their heads to an extraordinary degree. Arriving at the office I would find myself in a gallery of glowing beauty every day: record sleeves and other artwork which touched me then, and still touches me today, were on every desktop, in every drawer. Synaesthesia was at work here: 'visible Vivaldi'.

A World Record ingredient I particularly savoured was the self-denigratory humour. At one sales conference an executive pitched his plans for a boxed set of The Pirates of Penzance – observing that while we could have marketed the records singly for a total of $16.95, they could, with the cardboard-box around them, earn the company $27. Manager Cresswell-George commented drily, "One wonders who the real pirates would be." The proposed box price came down.

My happiest moments at World Record came when numerous members sent me letters saying we'd provided them with (in one woman's words) "a complete musical education...you bring the subject to life." I knew what she meant. Just working for the company had given me a musical education too.

I left World Record Club to work for Rupert Murdoch. The company's editor-in-chief told me he too was a member of the club – and said that a serial of mine, published in the monthly magazine World Record News, titled The Resplendent Mr Handel, had prompted him to buy 'a bucketload' of that compose's operas. He congratulated me on being such an expert on music – and asked which instrument I played.'I had to admit my only instrument was the RemingtonÑand even that I played with only two fingers'".

top:
above:
Former newspaper journalist Harvey Blanks acted as editor-in-chief, contributing to the monthly news-
letters with fresh pages from his ongoing book 'The Golden Road: a Record Collector's Guide to Music Appreciation' which was finally published in its complete form by Rigby Limited in 1968.
at top:
This photograph, taken in 1967, shows the author, Geoff Hocking (seated) and staff writer James Murdoch (standing) in the Burwood Road studio.

Founder of the Universal Record Club in Sydney, Murdoch joined World Record in 1964 as special assistant to the editor-in-chief, writing liner notes and editing World Record News (NZ).

He had been a pianist with 'Luisillo and His Spanish Dance Theatre of Madrid' before he joined World Record where he produced one of the monthly magazines, World Record News (NZ), and wrote liner notes for more than 200 albums, feature articles on contemporary music, and produced a series of recordings of Australian contemporary, classical, music.

The Tasmanian composer Peter Sculthorpe's Sun Music 1 was among the first of these works produced by Murdoch and released by World Record under the imprint Australian Music Today.

In 1975 Murdoch was appointed the first national director of the Australian Music Centre in Sydney, a non-profit organisation established through the Music Board of the Australia Council, a position he held until 1981.