words:
In 1986, after 11 years at Swinburne, Geoff left teaching to establish the design consultancy Geoff Hocking Graphics within the Melbourne independent publisher The Five Mile Press.

He worked with a number of prominent Australian authors and historians in the design and production of their books. He left two years later to move back to the country having taken over the Castlemaine Bookshop. After repeated enquiries from a constant stream of customers it soon became apparent that there was an urgent need for a new book on the history of Castlemaine.

Up until this time Geoff had really only worked on book design, however he decided that it was time to start writing. In 1995 Geoff published 'Castlemaine – From Camp to City' through The Five Mile Press. It was an immediate success. For a local history it was a best seller, selling more than 10,000 copies. As it was the last book Geoff designed using cut and paste artwork, a second completely digitised update was published in 2008, by New Chum Press, in an expanded full-colour edition.

Since then Geoff has written and published twenty-eight books, mostly on themes of Australian social history. The latest have been examining aspects of Australian design heritage.

Geoff writes a regular nostalgic opinion piece for the Bendigo Magazine, a glossy lifestyle publication published in his hometown and has contributed essays to the Journal of Australian History and introductions to the works of others.


top: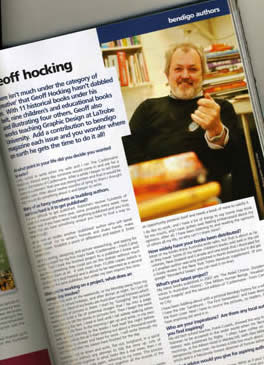 top left: Geoff and Christine just after they
re-opened The Castlemaine Bookshop in 1988
top right: Geoff and Christine [1971]

above: Author bio, Bendigo Magazine