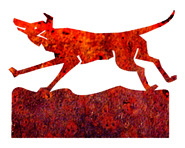 above: Cattle-dog to be mounted on interpretation panel.

below: One of the drover figures.

at right: Drawing of cattle figures. 5metres total length.


The Long Paddock Project [ArtBack]
Geoff has recently been succesful in gaining a federally-funded commission, auspiced by the Conargo Shire in central New South Wales, for the installation of a series of sculptural figurines which will stand beside the Cobb Highway at Wanganella [halfway between Hay and Deniliquin] at what is known as the Black Swamp.

The sculptures, which will stand 4 metres high, will be made from laser-cut, steel with a rusty patina, and set atop 3 metre long red-gum posts.

The sculptures depict a cattle drive, with two mounted drovers, cattle dogs and a seperate character – the headless horseman, which is a local legend perpetuated by a local butcher from nearby Moulamein, who was a small-time cattle duffer stealing from the herds camped at the swamp and selling his goods through the pubs across the district.

These, and 5 other installations will be positioned beside the highway, and the others at Moama, Mathoura and Deniliquin in mid-2009.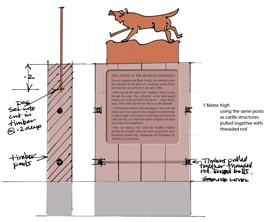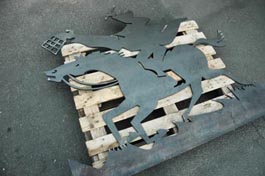 at top: drawing for interpretation panel. Laser-cut 12mm steel cattle-dog set on red-gum posts.

above: The Headless Horseman. 12mm laser-cut steel

below: Reinforcing brackets

left: One of the 'drover' figures. Figures will be mounted on 3metre red-gum posts [seen in background].
The figures will stand 4metres in the air when erected.